The LED Lighting Epidemic.
In the last few years, the influx of LED lighting has dramatically increased. Like all new things that save energy, the market has responded well to the offer of LED.
However, you should know that at this time there are no standards for LED in South Africa, which basically means that anyone who can get LED Lamps from China, Vietnam, South America or ICELAND can bring them in and dump them on the market.
This further opens the doors for unscrupulous businesses to take advantage of poorly informed customers.
Many LED Lamps and lights come with a warranty ranging from 1 – 3 years. Make sure you buy one with at least a 2 year warranty and ensure the company you are buying from will back the warranty.
Buying LED lamps 'voetsoets' from markets is a risk in that the power factor may be low and this leads to using more energy  not less and the lamps may fail in a short time with no backup.
Then you have to go and buy more!
Rather buy wise the first time!
LED Lamps – The  Facts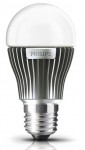 The good: They use even less power than CFLs
The bad: They can be rather dim. They also have a Power Factor less than 1. According to Energy Star requirements, LED lighting in the USA should have a Power Factor of at least 0.7 for bulb powers greater than or equal to 5W. Less than 5W, and there is no minimum Power Factor.
LEDs are highly directional. So, choose a bulb that will emit light in the direction you need.
Many LED bulbs that replace standard incandescents shoot all their light straight up, which wouldn't make a very good bulb for a table lamp if you're trying to read a book underneath it.
LED – Colour Temperature
If you are going to use LED lighting indoors or where there are going to be people , pick a 'Warm White' or 2700K Colour temperature lamp.
The (VERY GOOD) reason for this is that the human body and mammals in general need RED light for good health.
Blue light affects the sleep hormone , this is why it is not recommended to use a tablet, phone or even watch TV 30 minutes before bed.
Scientists around the world are concerned at the impact that the high level of blue light emitted by LED lamps could have on human health – especially related to eye health due to the glare and this impact is heightened for children who have more sensitive eyes than adults.
A recent white paper released details the potential impact exposure to LED Lighting can have and this is discussed more in this article.
Rule of thumb – if you are buying LED's for outdoor use, the 'cool white' and 'daylight white' is fine, for indoors, rather get the 'warm white' option.
Also, I find that the "warm white" lamps give a more homely , comfortable feel to the space, whereas 'cool white' tends to make spaces look clinical – almost like a hospital!
Color Temperature: 2700-5000K. Pick a 2700K bulb!
Lifetime: Usually 25,000 hours (25 times the life of a normal bulb, 2.5 times the life of CFLs)
Know the Power Factor.
I was recently looking at a special offer from one of the major retailers for 6 LED Lamps for just R100. These were Eurolux 6W LED Lamps in either ES or BC. Looking at the specs , I noticed that the Power Factor was rated at 0,5. This means that a 6W Lamp is using 12W of power to generate 6W of light!
So much for efficiency!
Simply put, Power Factor means how much power is wasted by the bulb. A Power Factor of 1 means no power is wasted.
A Power Factor of 0.8 means that 25% more current is required by the bulb to do the same amount of real work. But electrical losses are related to the square of the current. If you need 25% more current, you have 1.5 times the losses.
With an even lower Power Factor of 0.7, 40% more current is required to do the same work, and you have about 2 times the losses.
Be informed.
Saving Energy has always been about providing accurate info so that you can make informed decisions about ALL things energy saving. LED is a great technology and as it develops, it will become better.
In the meantime, just know the facts…